Roof (2006), photo etching, 58 x 76 cm. etching (1/8)
I have a long interest in the 'roof' in general and in the 'traditional Korean roof elements in particular. In Roof (2006) I was, for the first time consciously searching for a childhood dream or memory of unconsciousness in pitch darkness.
The Final Solution (2008), photo etching, 58 x 76 cm (1/ 12)
On September 11th 2007 I flew to Johannesburg from Heathrow with my partner. The original image and the title of The Final Solution (2009) was found there, in a book, Park Town 1892-1972 by Helen Arow, while skipping through books in the old Park Town public library. I later went to find the stadium still exists.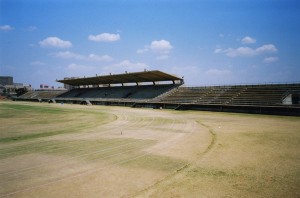 the stadium in 2007, Park Town, South Africa